Choose the program that fits you
MASTER EVERY ASPECT OF EMBD. LINUX, KERNEL & DRIVERS

My all new completely redesigned training programs promises to create a whole new league of programming experts. Master every aspect of system, kernel, driver and embedded programming with me. My training system helps you create a distinct and self-sustaining programming character, that no other trainer, method or system can give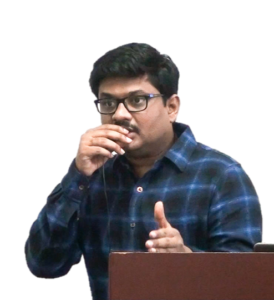 Raghu Bharadwaj (Trained over 5000 students and 40 clients since 2003)
Just after the first few sessions of our mentoring program, I realized that what I was learning is quite phenomenal, and for me to get this kind of knowledge from any other source would have been quite impossible. Following his instructions, listening him out with total surrender worked wonders for me. Everyday I thank myself for choosing TECH VEDA
His insistence on learning the right way, thinking the right way and doing the right way is commendable. One of the finest aspect that I learned from him is to develop the capacity to think your way out of problems and challenges that system programming presents to you quite often.
The kind of completeness and comprehension that Raghu sir brings to the topics is absolutely mind blowing. You know that you are listening to the right thing in the right context. Nothing seems to be thrown at you, rather there is a fullness and progressive perspective that we gain as listeners. Truly remarkable.
Get certified
Our training programs are widely recognized across OEMs, Embedded, Defense establishments, Automotive, FPGA, Networking and other core companies. Add the extra edge and value to your profile with our certification.
On completion of Professional / Mentoring programs participants will have the opportunity to take our certification test and become certified engineers