Raghu Bharadwaj
Lead Trainer | Author | Consultant | Public Speaker
Delivered corporate training to over 40 clients, including Mercedes, NXP, GE, Broadcom, Xilinx, Canon etc.
Technical Consultant
Linux kernel enthusiast, contributor and technical consultant for many national and international clients
50 Corporate Training
Delivered over 50 national and international corporate training, with repeat training to most clients
Author
Author of the best selling book 'Mastering Linux Kernel Development' from Packt publication, UK
Participants
Trained over 5000 participants from over 100 companies and 7 nations since 2003
Rated India's Best
Rated as one of the finest and natural speaker on the Linux kernel by most of his participants
Author of Best Seller
"Mastering Linux Kernel Development" from Packt publications, UK, is Raghu's best selling book on the v4.12 Kernel. This book offers great conceptual clarity on various crucial subsystems of the Linux Kernel like Process, Memory, Scheduling, Signals etc. and also giving the readers a much needed peek into the kernel code
Comments
"All together I am satisfied with this book and recommend other to buy one"
"The book gives a nice insight of the Linux kernel. The main edge is that it covers 4.12 kernel which is the latest version"
"Worth the money"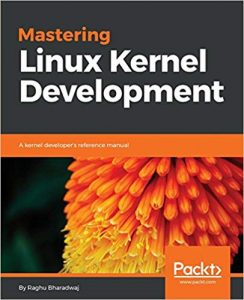 Having worked in Linux device driver development for some time, I still had tons of doubts. Everything seemed too complex and confusing about Linux system programming. Now things are clearer and learning Linux programming have become more interesting and fun. Thanks to Raghu sir unparalleled expertise and teaching style.
He doesn't merely explain the topics, instead makes you think and analyze them to the core to grasp the underlying concept/logic with far more clarity. Result is you develop a habit of effective learning on your own and have deeper and better understanding of whatever you learn rather than just doing surface learning.
Raghu sir is one of the most positive and inspiring persons I have ever met. From these traits alone we can learn few crucial things that usually get ignored in our school and college education altogether, things that can help us get any goal in life and career.
You lit a light in my dark world. Your influence changed my life. Words cannot express how much I respect you. You have been my idol throughout. Thanks for bringing a change in me. Thank you Raghu sir, for introducing me to the Linux device drivers world
Raghu sir is one of the best trainer I have ever seen in my life. He presents all the topics in such a way that even the complex topics seem very easier in the end because it stresses a lot on the design/architecture aspects, which in turn make the code easier to understand, He made us a habit to think throughout the class by asking some Questions and giving some Case studies to solve which are just like extension to the class what we have learnt. Starting from novice to the experienced people can understand the class very easily because it is presented so well , Apart from classes, Lab facilities are excellent and the Development boards are also available so that we can implement whatever we want to explore.
Invite Raghu for a talk
Public Speaking | Tech Events | College Seminars
For inviting Raghu Bharadwaj as a speaker, please write to us at sajith@techveda.org or call us at 9885808505